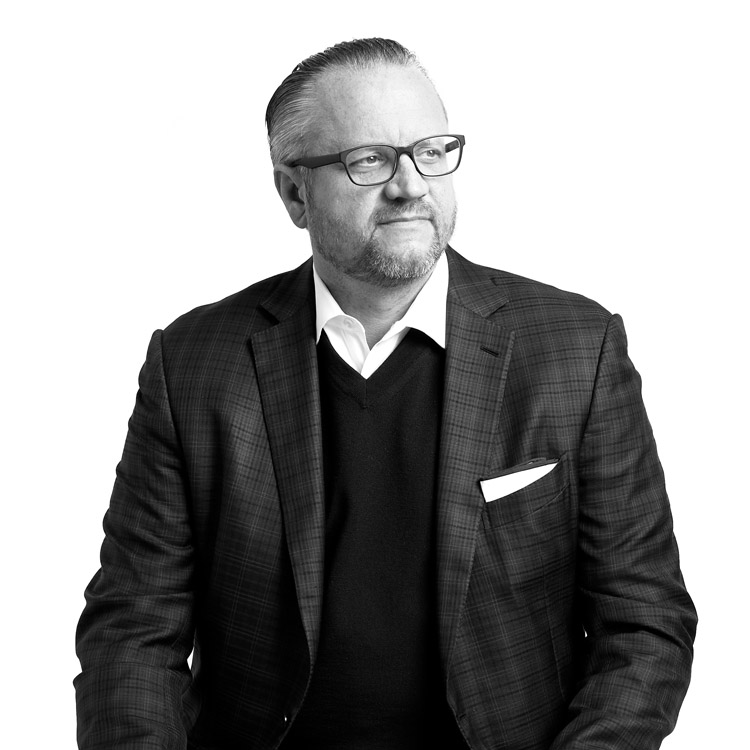 Founder, Managing Partner, & Chief Investment Officer
David L. Bahnsen is the founder, Managing Partner, and Chief Investment Officer of The Bahnsen Group, a bi-coastal private wealth management firm with offices in Newport Beach, CA and New York City, managing over $2.8 billion in client assets.
David is consistently named as one of the top financial advisors in America by Barron's, Forbes, and the Financial Times (2016-2018). 
He brought The Bahnsen Group independent in April 2015 after eight years as a Chairman's Club Managing Director at Morgan Stanley and seven years as a First Vice President at UBS Financial Services. He is a frequent guest on CNBC, Bloomberg, and Fox Business and is a regular contributor to National Review and Forbes.
David serves on the Board of Directors for the National Review Institute and is a founding Trustee for Pacifica Christian High School of Orange County. He is the author several best-selling books including Crisis of Responsibility: Our Cultural Addiction to Blame and How You Can Cure It (2018), The Case for Dividend Growth: Investing in a Post-Crisis World(2019), and his latest, Elizabeth Warren: How Her Presidency Would Destroy the Middle Class and the American Dream (2020).
David's true passions include anything related to USC football, the financial markets, politics, and his house in the desert. His ultimate passions are his wife of 18+ years, Joleen, their children, Mitchell, Sadie, and Graham, and the life they've created together on both coasts.
Kimberlee A. Davis, J.D., CDFA®
MANAGING DIRECTOR, PARTNER
As a Bahnsen Group Managing Director/Partner, Kimberlee specializes in personal wealth advising, and financial, retirement and estate planning solutions, for high net worth individuals and multi-generational families.  As a Certified Divorce Financial Analyst®, Kimberlee's proficiency also includes helping her clients transition to financial independence after life-altering events such as death or divorce. 
Kimberlee has established The Fiscal Feminist, a platform from which she strongly advocates for women through her passion to empower and educate them concerning their finances.  Her mission is to help all women — mothers, daughters, professional women, divorced women, widowed women, women of all ages and wealth levels –to embrace their responsibility to themselves to achieve solid financial footing in both calm and turbulent times.
With more than 25 years of finance, legal and corporate experience, her career has included being a corporate securities lawyer, investment banker, and Chief Financial Officer.  Kimberlee received her Bachelor of Science in Foreign Service/International Finance, at Georgetown University and earned a Juris Doctor from Georgetown University Law Center.  She currently holds the Series 7 and 66 licenses and the California Life and Health Insurance License.
As an active participant in the community, Kimberlee is a member of the United Way's Women's Philanthropy Fund and the Alexis de Tocqueville Society, a board member of The Valiant Women of the Mission Hospital Foundation in Mission Viejo, California which supports women's health care and nursing education, and a board member of The Sparkle Foundation's Sparkle BIZ platform which invests in single mothers who are business owners or entrepreneurs.   Kimberlee also is the President of the British American Business Council of Orange County, an Advisory Board Member for the University of California, Irvine – The Paul Merage School of Business Center for Investment and Wealth Management, and an active member of Gen Next, an organization dedicated to learning and engaging with the challenges facing future generations.
As a Pittsburgh native, she is an avid Pittsburgh Steelers fan.  Her passions include art, traveling and cooking, and reading.  Kimberlee is the proud mother of Allison, Claire and Merrill, who are in her view, her greatest accomplishments!
Managing Director, Partner
Don is a Managing Director and Partner in the team's Private Wealth Management practice specializing in helping affluent families develop comprehensive strategies for all phases of wealth accumulation, preservation and transfer. He is also the liaison between our Financial Concierge Services platform and our professional alliances, and serves as the editor of The Financierge – a publication dedicated to thought leadership on topics within our holistic, comprehensive financial service offerings.
With over two decades of C-Level corporate experience, Don has formally held positions as Independent Board Director, President & Chief Operations Officer, and Global Chief Information Officer. Don has a MBA from DePaul University and a bachelor's degree in Accounting and Economics from Illinois State University. He holds FINRA Series 7, 24, 63 and 65 securities licenses, insurance licenses, and is a licensed Certified Public Accountant and a Certified Financial Planner ™.
Don is active in several public and non-profit boards including the Forum of Christian Business Leaders, YMCA, Steadfast Income REIT, Vanguard University and the Grace and Hope Foundation.
A Chicago native, Don has three daughters, a son and lives in Corona del Mar, California. His passion is the privilege of serving his family, church, clients and community.
Brian T. Szytel, CFP®, AIF®
Managing DIRECTOR, Partner
As a Bahnsen Group Partner and Managing Director of the team's Private Wealth Advisor Group, Brian manages lead relationship management, investment strategy, financial and retirement planning, and advanced estate planning strategies for our clients.  Brian has a diverse professional background with over 15 years of financial advisory experience including UBS, SmithBarney and most recently at Morgan Stanley where he was promoted to First Vice President.
Brian holds the Certified Financial Planner ™, and Accredited Investment Fiduciary™ designations, along with the Series 7 and 66 securities and the California Life and Health Insurance License.  Brian received his Bachelor's degree in Business and Economics from The University of California at Santa Barbara.  Brian lives locally with his wife Sara and daughters Sophie and Anna and adores his active lifestyle with them outside of the office.
Private Wealth ADVISOR, Partner
As a Partner at The Bahnsen Group, Trevor focuses on providing clients customized financial plans, tailored investment solutions, and trusted financial advice.  Trevor formerly served as the Director of Financial Planning at The Bahnsen Group and continues to have a passion and interest in both the craft of financial planning and the financial planning industry. 
Prior to joining The Bahnsen Group Trevor's experience includes his service as a Financial Advisor with Morgan Stanley and Retail Banking with Wells Fargo.  Trevor completed his bachelor's degree in Organizational Leadership at Biola University and received an MBA with a concentration in finance from California State University, Fullerton.
Trevor is a CERTIFIED FINANCIAL PLANNER™ (CFP®) professional.  Additionally, he currently holds the Series 7 and 66 securities licenses, and California Life and Health Insurance license.
Outside of work Trevor enjoys serving as an Elder at Heritage Christian Fellowship in San Clemente and assisting with the Varsity basketball program at St. Margaret's Episcopal School in San Juan Capistrano.  Trevor formerly competed as a cyclist and still enjoys staying active playing basketball, mountain biking, and playing ultimate frisbee.
Trevor's greatest joy is his family; his beautiful wife, Nicole, and their sons, Shepherd and Judah.
Drew Dill is a Private Wealth Advisor at The Bahnsen Group's Newport Beach office, joining us after eight years as a Premier Banker at Wells Fargo, where he held a variety of senior banking roles and management roles. In addition, Drew is a Chartered Retirement Plan Specialist helping to implement and maintain retirement plans for employers and employees alike. Drew holds a CRPS license, Series 7 & 66 securities licenses, and a California Life Insurance license.
Outside of work, Drew is an avid baseball fan; Go Padres! He enjoys reading, teaching Sunday school at his church, fishing, hiking, long road trips, and smoking meats on the Pit Boss. Drew's greatest joy is spending time with family as he is happily married to his wife Elisabeth, and the proud father of two young children Edison and Isla. 
Leigh Ferst is a Private Wealth Advisor at The Bahnsen Group, working from our New York City office. She brings more than 25 years of experience in investment management, research, and strategic communications to our team. Leigh possesses a deep knowledge of the stock market, with robust experience in equity research on the consumer sector. She was an early investor in several startup companies via Golden Seeds Angel Investors. Her current research focus is evaluating all public and private asset classes in support of our exceptional client service.
Leigh joined The Bahnsen Group from HighTower Advisors, and before that, published research and managed investments for families and individuals at Wellington Shields. Her previous research experience includes positions at SG Warburg (now UBS) and Prudential Securities. She was named to the Institutional Investor All Star team in 1994 and recognized for equity research excellence by The Wall Street Journal in 1993 and 1996. Leigh also was an investor relations executive of Unilever and Sara Lee Corporation.
Leigh formerly served as President of the Consumer Analysts Group of New York.  She earned a Master of Business Administration degree from New York University's Stern School of Business, a Master of Science degree in Landscape Design from Columbia University, and a Bachelor of Arts degree in Comparative Literature from Brown University. She holds the Series 7, 63, 65, 86 and 87 securities licenses.
In her free time, Leigh volunteers at The Metropolitan Museum of Art, where she helps educate those with special needs. She is also a dedicated artist and often travels abroad to hone her craft, painting or sketching new landscapes. A native of Atlanta, Leigh is a long-time New Yorker who takes full advantage of the city's culture—particularly its music, dance, visual arts, and food.
SENIOR WEALTH ADVISOR, DIRECTOR OF INVESTMENT BANKING
Geoff Gregory serves as a Senior Wealth Advisor and the Director of Investment Banking for The Bahnsen Group, bringing more than forty years of experience in the financial services industry.  Geoff works with business owners, corporate executives, and entrepreneurs in all aspects of financial need from corporate liquidity events to private wealth management, planning, and investment services.
Geoff joined The Bahnsen Group in September of 2019.  Prior to the transaction, Geoff served as the Managing Partner of the G3 Advisory Group of HighTower Advisors.  Before joining HighTower, Geoff served as a First Vice President at Merrill Lynch, and spent the previous fifteen years in commercial banking, most of which was managing state-wide divisions supporting middle-market and privately-held companies. He was also the co-founder of a boutique investment bank in New York City.

Geoff brings to The Bahnsen Group vast experience and leadership in investment banking, having been instrumental in envisioning and implementing the HighTower Strategic Advisory Network, which provides clients with access to an exclusive network of sophisticated investment banking resources.

Geoff earned a Bachelor of Arts degree from the College of William and Mary, as well as a graduate degree from the University of Delaware's Stonier Graduate School of Banking. He has completed professional education courses focused on leadership and strategic planning at both Harvard and Columbia University. He holds the Chartered Retirement Plan Counselor® (CRPC®) and Certified Financial Manager® (CFM®) designations.

Geoff enjoys kayaking, fishing, biking, what some would generously call golfing and singing in his church choir. He is active in his community, having served on the boards of Madison Cares and Mercy Center. He lives in Madison, CT with his wife, Donna, and has two adult children and best friends, Joshua and Matthew.
Sean Latimer works as a private wealth advisor focused on developing comprehensive financial solutions for clients. Sean joined The Bahnsen Group in 2019 after working as a Financial Planning Specialist at Morgan Stanley, where he was named to the Pacesetter Club for 2016, 2017, and 2018.
Sean completed his Bachelor's degree in Business Administration at California State University, Fullerton. Sean also completed his Certificate in Financial Planning at the Graziadio Business School, Pepperdine University.
Sean is a Certified Financial Planner™ (CFP®) professional. Additionally, he holds the Series 7 and 66 securities licenses along with California Life and Health Insurance license. He also serves on the Investment, Banking, and Audit Committee for the City of Laguna Niguel, California
Sean is a proud husband to his beautiful wife, Sarah, and father to his two sons, Mason and William.
Steve Tresnan, CFP®, CAIA®
Steve Tresnan is a Private Wealth Advisor at The Bahnsen Group, working from our New York City office. He was formerly a Managing Director at HighTower Advisors, and brings more than thirteen years of industry experience to our team. Steve utilizes comprehensive financial planning and nontraditional investments to help clients improve their ability to attain long-term financial goals.
Steve has focused throughout his career on alternative investments, research, analysis, trading, financial planning, client service, insurance, and customized reporting solutions for ultra-high-net-worth families and institutions. Previously, he supported HighTower's Global Investment Solutions team by coordinating investment research, analytics, due diligence and access capabilities for the company. Prior to HighTower, Steve was a financial advisor at Ameriprise Financial in the greater Philadelphia area.
Steve is a Certified Financial Planner as well as a Chartered Alternative Investment Analyst®. He is also an Accredited Investment Fiduciary, which helps him offer guidance to clients with fiduciary responsibilities, such as board members of trusts, foundations, and endowments. Steve earned a Bachelor of Science degree in Industrial Engineering from Penn State University.
Steve serves on the board and finance committee of New Music USA – a national nonprofit devoted to the development and appreciation of new music in the U.S. – and volunteers as the Treasurer for Campus Fun & Learn, a child development center on the campus of Rockland Community College in New York. A Pittsburgh native and long-time guitarist, he enjoys playing and writing music, grilling/BBQ, exercising, sampling IPAs, watching PSU/Pittsburgh sports, golfing, and spending time with family and friends. Steve, his wife, Katie, and daughters, Ruby and Violet, live in Leonia, NJ.
Managing Director, Partner
As Managing Director, Deiya serves in a leadership position in our Solutions and Analytics group, working directly with the Chief Investment Officer on all portfolio and asset allocation decisions. Deiya heads our Manager Research and Diligence efforts, and is responsible for portfolio analytics, client performance reporting, trading and execution, and overall investment solutions.
Deiya is to essential to all aspects of trading, asset allocation, performance reporting and manager selection. He manages the infrastructure & processes responsible to achieve both scale and enhance customization in the portfolio management process.
Deiya joined The Bahnsen Group in 2014 at Morgan Stanley and was a key part of our transition efforts the following year. He has four years of honorable service in the United States Air Force where he was an F-15 Fighter technician. In addition, for a period of 365 days he was assigned to Seymour Johnson Air Force Base's Honor Guard as part of the Air Force's Mortuary Affairs Program. He completed his Bachelor's degree in Economics from University of California, Berkeley and is a CFA Charterholder. He currently holds the Series 7 and 66 licenses.
Director of Strategic Alliances
Don Evans serves as the Director of Strategic Alliances for The Bahnsen Group.
His depth of experience in leadership, corporate services, consulting, and asset management help him serve as The Bahnsen Group ambassador in facilitating alliances with external partnerships.
With more than twenty years of corporate experience in financial services, Don's past roles include Wealth Advisor, Chief Operating Officer, National Sales Manager, and Head of Investment Consulting with firms such as Hightower Advisors, UBS Wealth Management, and his own RIA/Broker Dealer, BIC Group LLC.
Don received his Executive Juris Doctorate from Concord University and Bachelor of Science Degree from LeMoyne College. He holds the Certified Investment Management Analyst (CIMA) accreditation and FINRA licenses Series 7, 24, 63, 66.
Director
Financial Planning
Leslie serves as The Bahnsen Group's Director of Financial Planning and works directly with our Private Wealth Advisors to provide comprehensive advice in all aspects of our clients' financial lives.
Prior to joining TBG, Leslie was the Lead Financial Planner at Inspired Financial in Huntington Beach. She holds a MBA with Global Emphasis from Fresno Pacific University and is a Certified Financial Planner™ professional. 
Leslie is a member of the Financial Planning Association (FPA) and leads their NexGen group in Orange County. In 2019, she received the FPA Volunteer of the Year award. She is also a member of Toastmasters International, Orange County Armenian Professional Society, and The Junior League of Orange County. Leslie often speaks to various groups on financial planning topics and the Financial Planning profession. She has been a guest lecturer at Cal State Fullerton in their Financial Planning program since 2018.
Leslie grew up in Marseille, France and enjoys living in Orange County with her husband, JJ. She loves to travel, play the ukulele, read, hike, and spend time with family and friends.
Kenny is a part of our Solutions and Analytics department, focused on equity and bond trading, portfolio analytics, and client performance reporting. Kenny is also responsible for on-going alternative investment monitoring and diligence.
Before joining The Bahnsen Group, Kenny was a wealth management analyst with Valensi Rose, 
PLC, a boutique law practice situated in Century City. He assisted in improving and standardizing financial schedules and provided departmental analytics.
Kenny completed his Bachelor's degree in Economics from the University of California, Los Angeles, currently holds the Series 65 license and is a Chartered Alternative Investment Analyst.
Michael is a part of our Solutions and Analytics department, working primarily in client performance reporting, data analytics, and alternative investments. Michael is also responsible for research around our technology and software innovation.
During his undergraduate years, Michael performed two internships with our Solutions and Analytics department assisting in Client Reporting. 
As a student, he was chosen to be a Student Portfolio Manager for his university's investment ($135k AUM). He was also recruited by a professor to be an analyst for a start-up hedge fund his junior year.
Michael will graduate from Rensselaer Polytechnic Institute with his Bachelor's in Business Management, where he was also a member of the football team. He enjoys anything that involves being on a boat, particularly Newport Harbor.
As Director of the Service & Operations department, Jacqueline is responsible for all client operations, account administration, custodial relationships, and money flow activity. She ensures that the processes and personnel are in place to deliver an extraordinary standard of service to all clients. The Operations Department is responsible for account opening, money transfers, payouts, tax documentation, alternative investment subscriptions, 529 college savings account needs, insurance payment processing, and all peripheral activity necessary in a client's operational needs.
In addition to being the driver of the Service and Operations work flow, Jacqueline is responsible for the management and mentorship of all personnel in her department. Jackie joined The Bahnsen Group in 2013 after seven years in other operational roles at Morgan Stanley. She was a key driver of The Bahnsen Group's transition to independence in 2015.
She and her husband, Ryan, enjoy outdoor activities and spending time with family and friends.
Camille works within our Service and Operations Department assisting in the daily needs of our clients. After graduating from The Pennsylvania State University, she began her career in New York City and has over 30 years of experience in brokerage, mutual fund sales and asset management.  She started with Dean Witter Reynolds, Oppenheimer & Co, and Fred Alger Management in New York, followed by Shearson Lehman Hutton, Palley-Needelman Asset Management and Metropolitan West Capital Management in Newport Beach.
She is a Board Member of the Orange County Chapter of the Penn State Alumni Association.  Besides cheering on the Nittany Lions, she enjoys going to concerts, Anaheim Ducks hockey and using her Disneyland annual pass.
Alexis Gales joins us from the University of Southern California where she was the Director of Operations for USC Volleyball.
Prior to her working for USC, she worked in sales development for Highspot Inc., a software company providing sales enablement tools and software for improving marketing effectiveness.
Alexis graduated with a B.S. in sociology from USC where she was also a starting volleyball player earning the AVCA All-America honors in 2013. Alexis went on to play professionally including contracts in Germany, South Korea, and the Philippines and was a member of the USA Women's National Training Team competing for Team USA at the 2014 NORCECA Continental Olympic Qualifier.
Beth joined the Service and Operations Department of The Bahnsen Group in the spring of 2019, bringing valuable experience and skill to the team.
Beth began her career in 1991 at Shearson Lehman.  Over the last 25 years she has seen time at Smith Barney and UBS in various senior administrative roles.  Her experience covers both the RIA world and large firms, and she has tremendous ability to solve problems and serve clients.
Beth resides in Huntington Beach with her daughter. She enjoys riding her bike to the beach, baking with her daughter, and loves teaching Pilates.
Matthew provides direct support to the Service and Operations department, focusing on alternative investments processing, and serving as the overseer of our client web portal. He works in our New York office.

Prior to joining The Bahnsen Group, Matthew graduated from New York University with a B.F.A in Drama. He is also a singer/songwriter and composed the music and lyrics for two off-Broadway premiere musicals. 
Since music activates both sides of the brain, Matthew brings a balance of analytical and creative thinking to all he undertakes.
Rayna serves as Business Administrator, responsible for financial operations, HR functions, and any duties that drive a more professional and efficient administration of our business and is based in our Newport Beach office.
Rayna joined The Bahnsen Group in 2018 after four years with Capstone Partners and Gemini Southern, LLC where she gained experience in management consulting, corporate finance and accounting services. 
Rayna is a graduate of the University of Nevada, Las Vegas and holds a B.A. in Criminal Justice and a minor in psychology. She also earned her Paralegal Certification from the University of California Irvine, and her Accounting and QuickBooks Certifications from the National Association of Certified Public Bookkeepers.
Ericca brings stellar experience in client service and office management to The Bahnsen Group. Prior to joining us, she managed the office of an international manufacturing company in Orange County, covering more than fifty employees.  She possesses great skill in business administration and has a real passion for supporting the client experience and advisors at The Bahnsen Group.
A devoted mother, Ericca enjoys outdoor activities, year-round youth sports, and days at the beach.
Office Manager - New York
Abigail serves as the New York Office Manager and a Service & Operations Associate for The Bahnsen Group. Before joining the team, Abigail worked in various financial services, investor relations, and non-profit administrative positions in New York City.  
Abigail is a graduate of The King's College in Lower Manhattan and has lived in Brooklyn, NY most of her life.  She enjoys spending time with her family, reading, writing, and running in New York City parks.
Strategy & Communications
Brian leads The Strategy and Communications department which is responsible for the curation and cultivation of the collective thoughts and wisdom of The Bahnsen Group.
He supports the creation and distribution of the many forms of communications created by the thought leaders of the company and connects tothe public through a host of digital methods and channels, providing preferred points of contact to an interested public.  
Utilizing his years of experience in marketing and branding, he crafts new ways to reach the current and future clients of the group so that the investment philosophies and principles that drive The Bahnsen Group can serve them in their financial lives.
Brian received his Bachelor of Science in Psychology at the University of California, Irvine.
Director
Digital Communications
Glen provides analysis and guidance regarding the client experiences we create and deliver on our various digital platforms.  Glen supports the Strategy and Communications department with a deep digital and creative marketing experience he gained over the last twenty years as a Partner of the Brainyard advertising agency where he produced over 100 websites.  Glen has both front and backend coding skills bringing The Bahnsen Group senior level deployment of digital initiatives.  
Glen provides deep analysis through the use of enterprise level tools to help create a functional yet simple online experience.
His early professional experience was spent in financial accounting and the design of control and reporting systems for a variety of financial institutions, the Resolution Trust Corporation, and a host of digital startups.
Glen received his Bachelor's in Economics and Master's in Business Administration from the University of California, Irvine. 
Joleen Bahnsen leads our Style & Experience Department (S&E), created from a desire to escalate the client experience at The Bahnsen Group, and to build a consistent and professional brand profile in the marketplace.  She manages all client and community events as well as brand fidelity and design of all things TBG.
Joleen has served at several national ad agencies, working on such prominent accounts as Hilton Worldwide, UPS, and Del Webb.  
Joleen holds a Bachelor of Communication from the University of California, Santa Barbara, and has been a part of The Bahnsen Group since its founding.  She has been married to our Managing Partner since 2001 and is the mother to their three wild and wonderful kids Mitchell, Sadie and Graham.
Mina supports our Style & Experience Department with a background in branding, promotion, packaging design, front end web development and collateral design. As a strategic designer, Mina specializes in creating powerful and memorable designs. Through the power of typography, color and visual communication, she aims to convey a consistent brand message by creating unforgettable visual experiences.
Prior to beginning her formal education in design, Mina worked on the trading floor at Morgan Stanley in New York City assisting the foreign currency and US interest rate strategy teams. After receiving her Masters Degree in Design, Mina has served as a senior level designer at several New York City agencies, working on such prominent accounts as Mondelez, Pepperidge Farm, Colgate, Nestle, Baby Einstein and more.
Mina holds 2 Bachelor of Arts degrees, one in German and one in Political Science, from the University of Georgia as well as a Masters of Arts in Visual Communication, Packaging Design from Pratt Institute in New York.
Mina spends her free time playing pool, attending design/typography events, finding ways to practice her German, and relaxing with her 2 tiny chihuahuas.